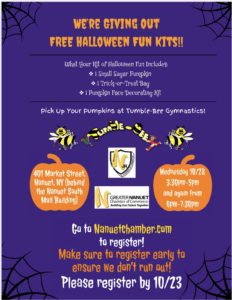 Due to COVID restrictions, the Nanuet Chamber's annual Halloween Spooktacular is being curtailed. However, in the spirit of Halloween, and as a way to support our businesses and community, we are providing FREE Halloween Fun Kits to the first 150 people who register, (so we may hold them for you), while supplies last.
The fun kit will consist of one pumpkin, one Trick-or-Treat bag and one pumpkin face decorating kit.
Any reserved kits that have not been picked up by the end of the pickup period will be donated to Tumble Bee Gymnastics who is assisting with this FREE promotion.
The Halloween Fun Kit may be picked up in front of Tumble Bee Gymnastics, 401 Market Street (behind the Nanuet South Building) on Wednesday, October 28.  PLEASE NOTE UPDATED PICKUP TIMES: There will be two times for pickup, 3:30 PM to 5:00 PM and again from 6:00 PM to 7:30 PM to accommodate after work pickup. Please stay in your car and wear masks. Provide your name and volunteers will place the Fun Kit in your car.

Your response has been overwhelming, and we are proud of your support, however in order to ensure the proper amount of supplies we are SOLD OUT and unable to increase our order beyond current registrations.  We apologize as we are not able to accept any additional orders. 
Thank you. Stay safe, healthy and positive!
The Nanuet Chamber of Commerce
Nanuet HS Junior Chamber