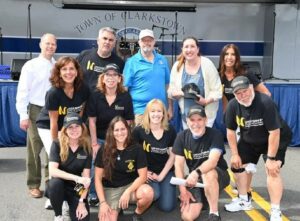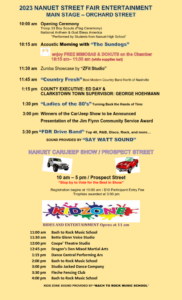 Enjoy the PREVIEW of our June 2022 Street Fair TV Ad.
Register now for our 9th Annual Street Fair – SUNDAY, June 4, 2023 — 10 AM – 5 PM
CLICK HERE TO COMPLETE A VENDOR REGISTRATION FORM OR SIGN UP FOR SPONSORSHIP 2023 NANUET STREET FAIR.

The success of our event depends greatly on the sponsorship we receive to provide the entertainment, sound system, kids activities, etc.  Please consider supporting this event that in turn supports our local businesses.
We will update this page with our entertainment schedule, etc. prior to the event.
Every year our Street Fair sells out with over 170 vendors! In June 2022, we attracted roughly 18,000 people and there is something for everyone!. We have had kid activities, great food, and live entertainment all day long. Check our photo and video gallery pages on this website and on our Facebook page to see and share in your comments.
NOTE! Our BOOTHS have SOLD OUT every year so be sure to register early for our 9th Annual Street Fair on Sunday, June 4th, 2023.

Our last Street Fair had numerous sponsors (see our 2022 Street Fair post for a listing) who help make this event a success and we hope you will do so again or consider becoming a sponsor for 2023. The earlier you sponsor, the sooner you will be included on all advertising we do for the event. We have various levels of sponsorship for the Street Fair and all our events. Please contact us at info@nanuetchamber.com for additional information and be a part of the community.
See Sponsorship/Member levels here
Event Sponsor:
Rockland County Tourism
Gold:
Veolia
Silver Sponsor:
Mercedes-Benz
Rockland Parent
Town of Clarkstown
Ultimate Sponsor:
Huntington Learning Center- Nanuet
Title Boxing Club – Nanuet
Wallauer Paint & Design

Bronze Sponsor:
DeDona Enterprises
Orange & Rockland
Rainbow Restoration
Rockland Bakery
Additional Sponsors:
Bardonia Fine Wines (champagne)
Bag Sponsors:
Auto Pro, LLC
Balanced Wellness & Reiki Healing
Clarkstown Coin & Jewelry
Coldwell Banker Realty
Committee to Elect PBT (Patricia Brimais-Tenemille- Family Court)
Dance Central Performing Arts
Friends of Chris Exias
Janine Kershaw Psychic Medium
Judge Ascher for Clarkstown
Justin Sweet for Clarkstown
Happy Jack Fund
Living Word Christian Fellowship
Lauren Marie Wohl for Clarkstown Town Clerk
Mariana Cecilia Studio
Nanuet Fire Department
Nanuet Public Library
Palisades Center
Party Time Travel
Premier Collision
Proforma K Print Solutions
Retro Fitness
RISE
Tiger Schulmann's Nanuet
Volumetric Fund