2020 Holiday Window Decorating Contest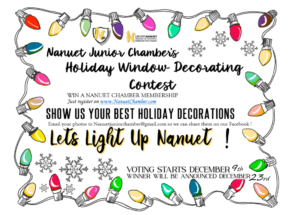 The Nanuet High School Junior Chamber of Commerce is coordinating a Holiday Window Decorating Contest to "Light-Up" Nanuet.
As we are not able to hold our Tree Lighting Ceremony this year, due to COVID, we are encouraging all storefronts to decorate their windows in some way for the Holidays. Add some holiday lights, garland, a statue of Santa Claus, elves, a sleigh whatever will "Light up Nanuet" and also bring business to your door or at least make shoppers and the public stop and look.
Members of the Nanuet High School Junior Chamber will judge the best holiday decorations starting Wednesday December 9th. Send photos of your  window to the Junior Chamber email at nanuetjuniorchamber@gmail.com. The Nanuet Chamber will offer a FREE one year membership (or one year extension to an existing member) to the winner of the contest and will be announced on December 23rd.
If you are interested in participating for a chance to win the Free Membership, please complete the registration form below.