6th Annual Nanuet Street Fair Takes Place June 2nd

Arrive at 10:00 am for Free Coffee and Donuts
The Greater Nanuet Chamber of Commerce will host its Sixth Annual Nanuet Street Fair on Sunday, June 2nd from 10am – 5pm on Main Street. The event has quickly become one of the most popular in Rockland and attracted more than 18,000 people in 2018. Parking and admission are free and there will be activities for all ages.
New This Year! The day will open with the Nanuet Choir and then free coffee and donuts with Supervisor George Hoehmann with acoustical guitar accompaniment by Marco Ferreira at 10:00am. Everyone who arrives by 11:15 will receive a free ticket for the special "Small Town, Big Heart" raffle to win vouchers to be redeemed at any vendor at the Fair during the day. There will be a Kidz Zone with rides from Screamin' Parties, free crafts from the Nanuet Library, local dancers and performers, and also new this year, a magician and a live reptile show.
The Nanuet Street Fair will feature local bands Country Fresh, FDR Drive Band and the Blue Sky Band on the main stage at Orchard Street, as well as performances from Coupé Theatre Studio and Dance Central Performing Arts. Over 200 vendors will offer jewelry, quality handmade crafts, clothing, artwork and more. And there will be plenty of unique food purveyors, wine, beer and dessert options.
There will also be a car show in front of the old firehouse on Prospect Street. People interested in showing their car can sign up that morning for $10 entry fee. Prizes will be awarded.
"Each year we strive to do something different. We only host one Street Fair a year, so we want to make sure it's memorable. This year we've added free coffee and donuts, an expanded Kidz Zone and a few surprises as well," stated Susan Farese, Vice President of the Nanuet Chamber and Coordinator for the Fair.
"We are one of the only Street Fairs in the tri-state area where attendees can pick up a free goody bag. The bag itself is a gift but inside are items and coupons from 40 vendors around Rockland," stated Risa Hoag, President of the Nanuet Chamber of Commerce. The bags are distributed to the first 500 families who stop by the Nanuet Chamber booth at Market Street. While supplies last fair goers can also pick up a free "Small Town, Big Heart" bracelet at the Chamber booth.
Gold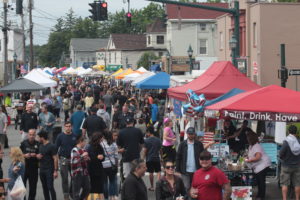 sponsors for the fair include Cubesmart, Dynamic Productions USA, WMC Health – Good Samaritan Hospital, Nanuet Restaurant, Scott Milich for Town Council Ward 4, Town of Clarkstown, and West Rock Pools. Silver Sponsors include Dawg House, Luxury Kitchen & Bath, Mercedes-Benz of Nanuet, The Shops at Nanuet and Wallauer Paint & Design. Event sponsors include Clarkstown Town Supervisor George Hoehmann and Rockland Bakery as well as 40 additional sponsors who are featured on the free gift bags distributed to the first 500 families to stop by the Nanuet Chamber booth. The bags include goodies and coupons for area businesses.
Due to the number of people expected, attendees are asked to leave their dogs at home for everyone's safety. All information and schedules for the day can be found at www.nanuetchamber.com or on the Chamber Facebook page. Questions: info@nanuetchamber.com For booths visit www.woodwill.com . Follow the Fair on social media using #NanuetSF19.