Our Board of Directors for the 2016-2017 fiscal year.
Executive Officers
Risa B. Hoag: President
Linda Stankard: Vice President
Susan Farese: Secretary
Kim Tran: Assistant Secretary
George Mollo: Treasurer
Tony Pallogudis: Immediate Past President (2015-2016)
Board Member
Adrienne Carey, Board Member
Jim Flynn: Board Member
Jeffrey Gibs: Board Member
Michael Kitt: Board Member
Valerie Moldow, Board Member
Erica Sallahian: Board Member
Jerry Tuchband, Board Member
Arnold van Deuren: Board Member
Timothy Chhim: President (2012-2013)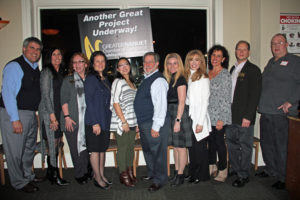 Board Members from left to right:
Tony Pallogudis, Susan Farese, Erica Sallahian, Linda Stankard, Kim Tran, George Mollo, Adrienne Carey, Risa Hoag, Valerie Moldow, Jeffrey Gibs, Jim Flynn, (Not pictured: Michael Kitt, Arnold Van Deuren, Denise Formoso, Administrator)
Interested in attending a Board Meeting to see what goes on or care to get involved with a committee!? Join us! Meetings are monthly and usually take place at 7:00 pm.  See our Board Meetings page for more information.