SAVE THE DATE – SUNDAY, JUNE 4, 2017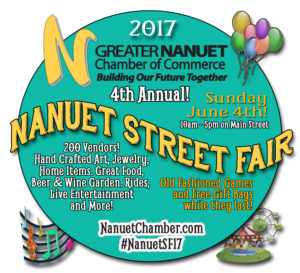 Every year our Street Fair sells out with over 200 vendors! We attract over 15,000 people and there is something for everyone! Enjoy our beer and wine garden under the relaxation tent starting at 10:30, the kid rides, the old fashioned family games, the great food, and live entertainment all day long. And the first 500 families to stop by the Chamber booth will receive a free gift bag! Check our photo and video gallery pages on this website and on our Facebook page to see and share in your comments.
NOTE! Our BOOTHS have SOLD OUT every year so be sure to register early for our 4th Annual Street Fair on Sunday, June 4th, 2017.

Last year we had numerous sponsors (see our 2016 Street Fair Page for a listing, under Past Events) who help make this event a success and we hope you will do so again or consider becoming a sponsor for 2017. The earlier you sponsor, the sooner you will be included on all advertising we do for the event. We have various levels of sponsorship for the Street Fair and all our events. Please contact us at info@nanuetchamber.com for additional information and be a part of the community.
2017 Street Fair Sponsor List
Chamber Sapphire Sponsor
Verizon Wireless
Gold Sponsor
Ambulance Brew House
Dynamic Productions USA
Town of Clarkstown
Silver Sponsor
Cube Smart
Mercedes-Benz of Nanuet
Event Sponsor
Rockland Bakery – Children's Rides
Bag & Tee Shirt Sponsors
Adrienne Carey for Clarkstown Town Council
Alden Wolfe for Surrogate
Area Pro Realty of Rockland
AutoPro Auto Parts
B & M Cosmetics II and Salon
Bach to Rock
Banchetto Feast
Barry Dorfman, Liberty Mutual Group
Birbrower & Beldock
Bon Giovanni's
Children's Corner Learning Center
Citizen's Bank
Clarkstown Coin & Jewelry
Coatti's Service Station, Inc.
Coldwell Banker Residential Brokerage
Computuners – Computer Services
Coupe Dance Studio
Dance Central Performing Arts
Frank DiZenzo Superintendent Highway
George Hoehmann, Supervisor
GMG Public Relations, Inc.
Goosetown Communications
Howard Gerber, Attorney at Law
JCC of Rockland
John Noto Clarkstown Councilman
Judge Craig Johns
Judge Scott Ugell
KLS Transportation
M-Tech Printing
Meals on Wheels
Nanuet Lions Club
Nanuet Restaurant
New City Bowl & Batting Cages
Pinot's Palette
Roca Carpet
Rockland Interiors
Rockland Parent Magazine
Sassy Productions
Sullivan for Supervisor
Sunshine Plumbing & Heating
TD Bank
The Workout Place
Tiger Schulmann's
Tumble Bee Gymnastics
Volumetric Fund